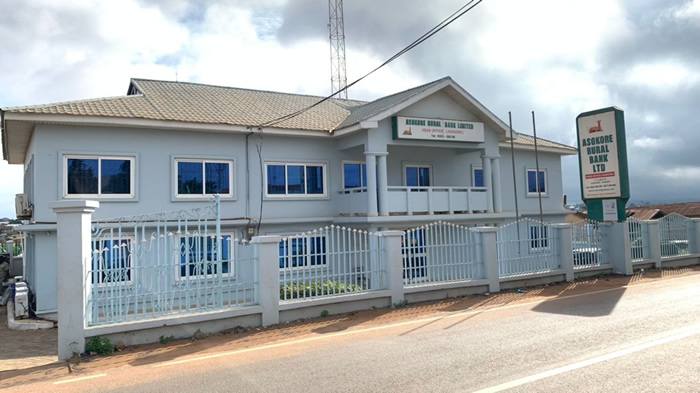 The sensation of Nana Yaw Gyimah II, Paramount Chief of Asokore Traditional area and his elders towards Rural Bank concept was initiated by Mr. Agyepong Boateng, a native of Koforidua in the Eastern Region who was the director of the Rural Finance Department of the Bank of Ghana (BoG). He was supported by Dr. S. K. B. Asante, Mr. P. K. Boateng, Mr. Dickson Boamah, Col. P. K. Agyekum, Mr. Boateng Boaitey and Mr. Antwi Boasiako.
This sensation became eminent with a delegation led by Mr. Asiedu Mantey (then a Director, Bank of Ghana) was dispatched to Asokore to ascertain the possibility of setting up a Rural Bank in the area. The delegates report to Bank of Ghana proved favourable. Upon this, opening of Asokore Rural Bank was approved. On 5th December, 1980, the Asokore Rural Bank Limited was officially opened making it the fourth rural bank in the Ashanti Region.
The "Buffalo" was chosen as the Bank's logo since it is the totem of the Asokore Ekuona Clan into which the Bank was born. Also as the buffalo is one of the strongest animals in the animal kingdom, hence the Bank settled on the slogan "protector of investments".
The initial share capital floated was one million cedis (GH¢100) out of which shareholders were to provide seventy five Ghana Cedis (GH¢75) representing seventy five percent (75%) and Bank of Ghana, twenty five Ghana Cedis(GH¢25). Mr. Boateng Boaitey (Alias BB Brothers) made an immense contribution towards the initial share capital floated.
Infrastructure
All the branches have a first class road network from the Kumasi business centre. There are well established hospitals/health centres in each locality which take care of the medical needs of the people. The various agency catchment areas also have well established schools; ranging from nurseries to the senior high schools in each locality. There is also electricity (through the National Electrification programme) good drinking water and recreational centres in all ARB's catchment areas.